NOTICE
Unfortunately due to the ongoing COVID-19 pandemic, we are unable to offer Youth Member Swim and Family Swim during this time. Stay tuned to updates on this page for future free swim times!
Youth Member Swim
Our Swimmer of the Month is Matthew!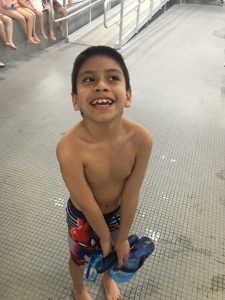 The Swimmer of February is an individual who has been coming to free swim all year, and has always been respectful of the rules of the pool, the lifeguards, and the rest of the pool staff. At the beginning of the year, he was unable to swim without a life jacket, but he was all smiles and loved coming to every pool program we had to offer.
This month, Matthew has begun participating in our brand new water polo program, and after just a couple months of hard work he has passed the deep end test!
Free Swim
During the school year we offer free swim to our members at the following times:
Monday through Friday: 3:00 p.m. – 4:00 p.m.
Saturday: Family swim 1:00 p.m. – 2:30 p.m.
On half-days and no school days, please call the club to verify the time as schedules for those days will vary.
Family Swim
Families are welcome to participate in family swim on saturdays from 1:00 P.M. – 2:30 P.M.. Young children must be accompanied by an adult during family swim. Please call the club before to ensure family swim is taking place (occasionally family swim will be cancelled due to swim meets).

| | | |
| --- | --- | --- |
| Family Swim Fees | | Price |
| Swim lesson participants & youth members | | $10.00 per family/per visit |
| Public entry | | $15.00 per family/per visit |
Children must bring their own bathing suits & towels. The club does not provide extra bathing suits, towels or goggles.
---
---